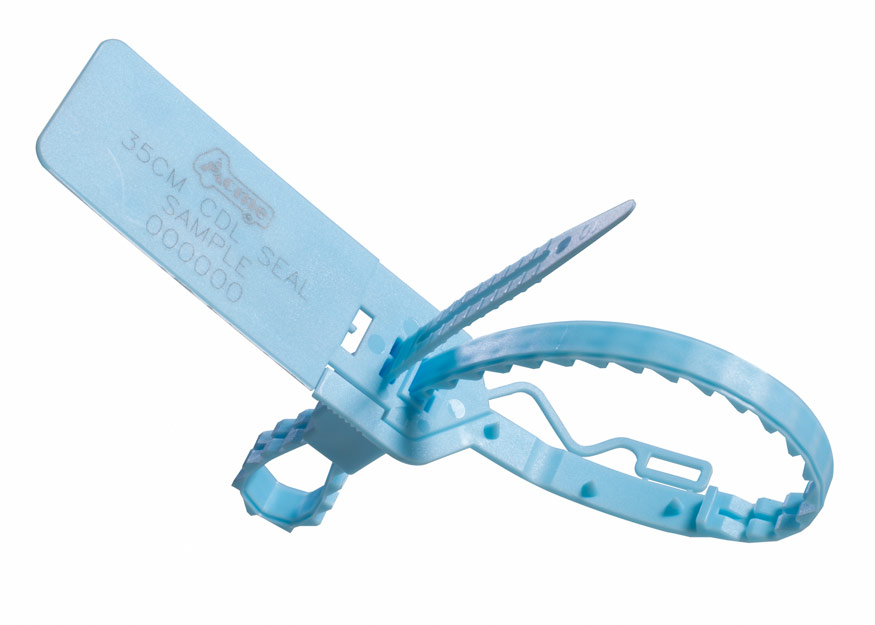 CDL Seal
The Acme CDL Seal is a versatile plastic pull-tight seal manufactured from Polypropylene material. The design features two separate locking mechanisms within the locking housing, which allows the user to double lock the seal by inserting the strap into the hole with the embossed arrows and after pulling the strap tight the user can then re-insert the strap into the hole next to the exit hole of the initial locked strap and by pulling the strap tight it is double locked within the locking housing. This seal also features a label tag and a tear off tag making this a very versatile seal that can be used for most applications.
Recommended applications
Airlines, Cargo, Trailers, Containers, Rail freight, Refineries, Warehouses, Cash bags, Postbags, Lockers.
Material
Polypropylene with Biodegradable additives
Available Operation Length
29cm (overall 35cm)
Strap Width
7mm
Tag Marking Dimensions
25mm x 48mm
Average Breaking Strength
23kg
Marking
Laser or Foil marking
Consecutively numbered as standard
Optional Customer name/logo
Optional Laser Barcoding
Colour
Foil marked: red, blue, green, yellow, orange, black, white.
Laser or Foil marked: pastel shades of pink, blue, green, yellow, peach, also black and white.
Other colours may be available on request.
---

PDF
Acme CDL datasheet (133kb)