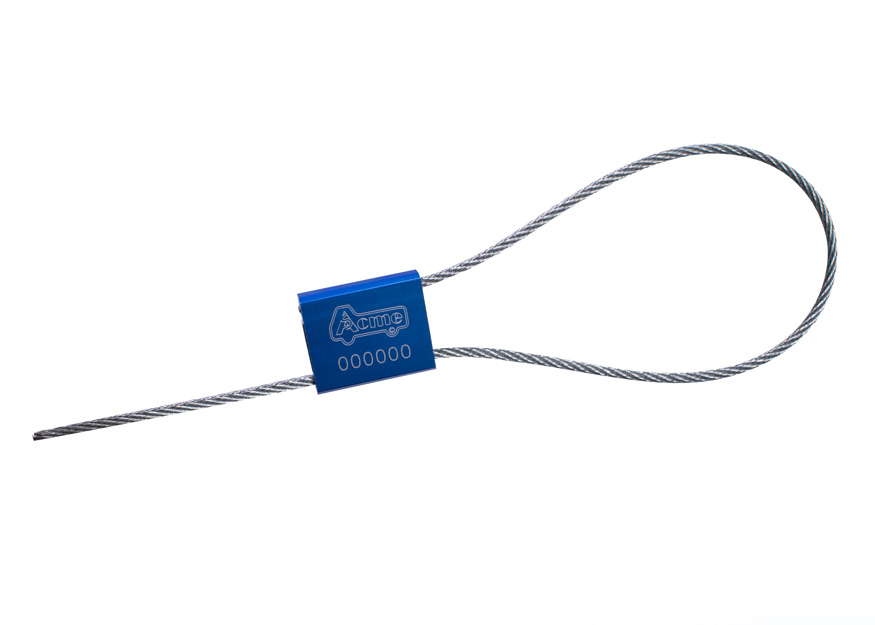 CS1 Seal
The Acme CS1 Cable Seals is available in various cable lengths and diameters to suit all requirements. The cable seals lock body is manufactured from die-cast aluminum and the cable from non-preformed galvanized steel. The cable has a welded tip for ease of locking and should the cable be cut it unravels making it impossible to re-lock the seal again without showing obvious signs of tampering.
Our cable seals are best used in trailers, tankers, rail freight , container or refineries which require high security lock tensile strenght via galvanized metal cable. Acme Cable Seals high tensile strength of 150kg to 1.5 ton (depends on cable diameter) has been proven to be durable and tough to withstand any form of tampering.
The cable length are available from 20cm to 400cm with cable diameter of 1.5mm to 5mm. Once the cable seals is lock, it can only be remove by a cable seals cutter.
Recommended applications
Trailers, Tankers, Rail Freight, Containers, Refineries, Warehouses
Material
Lock Body : Die-Cast Aluminium
Cable : Non-Preformed Galvanized Steel
Acceptance
ISO 17712:2013 (E) 'H' compliant High Security Seal
HM Revenue & Customs High Barrier Seal Class 1
EU Regulation 2454/93, Article 386, Annex 46A
US In-Bond Security
Available Cable Length
20cm – 400cm
Marking
Laser marking, Consecutively numbered as standard
Optional customer name/logo
---

PDF
Acme CS1 Seal datasheet (112kb)