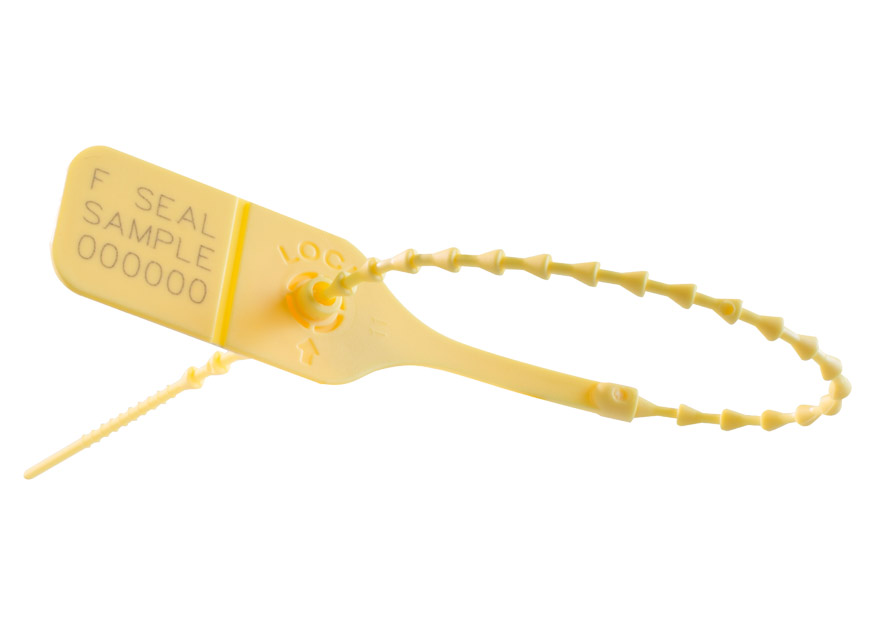 F Seal
The Acme F Seal is a low breaking strength pull-tight seal manufactured from Polypropylene material. The seal can be supplied with a heat rolled over top to prevent tampering by intrusion into the locking head but if tampering is not the main characteristic the seal can be supplied without this added feature. With a 2.6mm diameter ribbon this seal is ideal for applications where there are small sealing apertures.
Recommended applications
Baggage, ATM Dispensers, Gaming Machines, Fire Equipment.
Material
Polypropylene with Biodegradable additives
Available Operation Length
20cm (overall 23cm)
Ribbon Diameter
2.7mm
Tag Marking Dimensions
18mm x 30mm
Average Breaking Strength
7kg
Marking
Laser or Foil marking
Consecutively numbered as standard
Optional Customer name/logo
Optional Laser Barcoding
Colour
Foil marked: red, blue, green, yellow, black, white
Laser or Foil marked: pastel shades of pink, blue, green, yellow, peach, also black and white.
Other colours may be available on request
---

PDF
Acme F Seal datasheet (82kb)