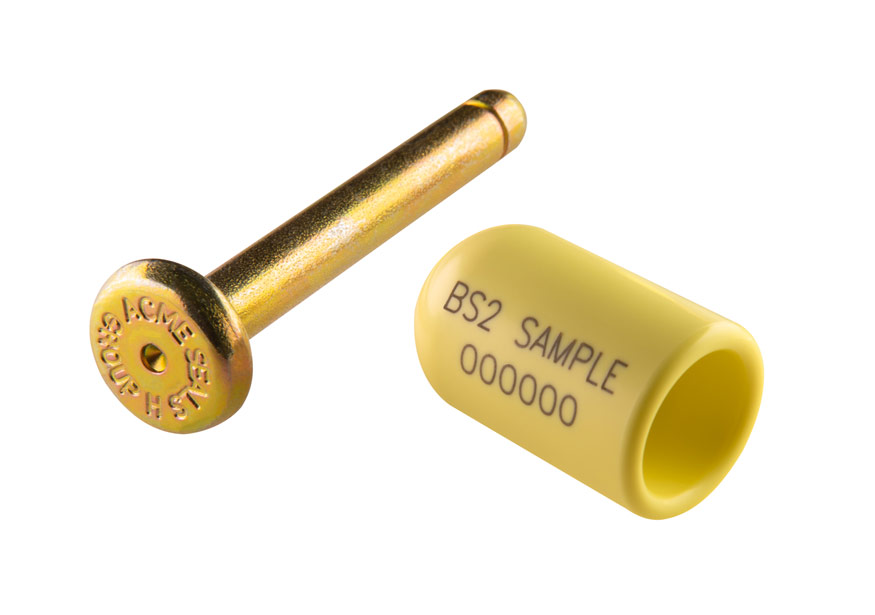 Bolt Seal 2
The Acme BS2 Seal is an ISO 17712:2013 (E) compliant high security bolt seal, designed for high value ISO container cargo shipments. The bolt head is embossed with the company name and the letter 'H' as a compliant seal and the bush is plastic coated for laser marking sequential number/logo. The seals are packed in high quality clear re-closable wallets of ten seals, making it easy to remove seals singularly and then reclose the wallet. When the seal has been locked the bolt spins freely on the locking bush to confirm seal integrity. The seal can only be removed using bolt croppers.
---

PDF
Acme Bolt Seal ISO 17712 compliance certificates
---

PDF
Acme Bolt Seal 2 datasheet (620kb)
Recommended applications
Rail, Sea & Air Container Freight, Doors, Hatches, Trailers, Storage.
Material
Carbon steel with zinc chromate finish
Bolt – High visibility polypropylene coated
Lock Bush – High visibility polypropylene coated
All PP with Biodegradable additives
Acceptance
ISO 17712:2013 (E) 'H' compliant High Security Seal
HM Revenue & Customs High Barrier Seal Class 1
EU Regulation 2454/93, Article 386, Annex 46A
US In-Bond Security
Available Operating Length
38mm
Dimensions (metal components)
Bolt – 18.8mm dia head and 7.9mm dia shaft
Bush – 18.1mm dia head reducing to 12.0mm
Average Breaking Strength
Tensile Pull Strength – 20.20(kN)
Shear Test – 8.96 (kN)
Impact Test at 18º C – 40.68+(J)
Impact Test at -27º C – 40.68+(J)
Bending Test – 67.34(Nm)