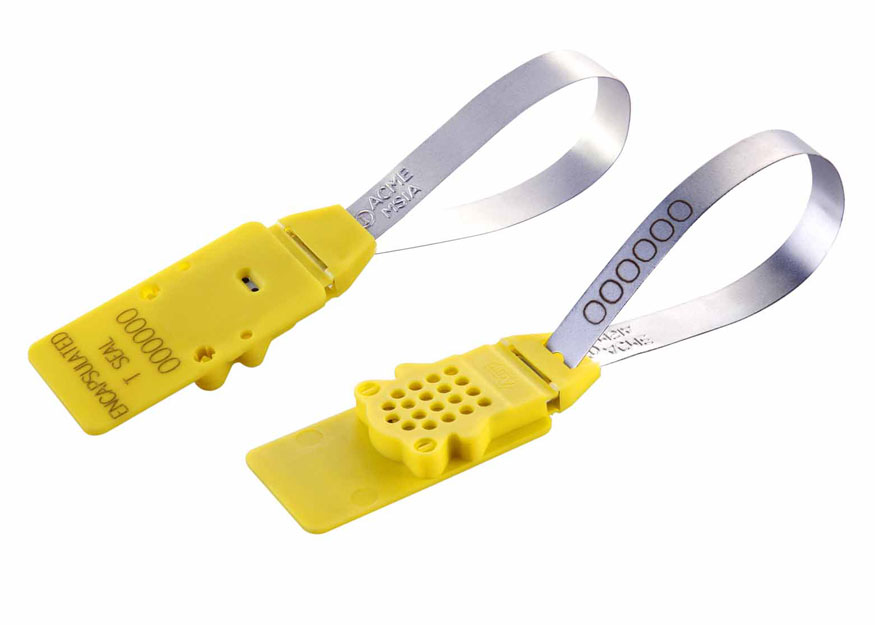 The classic Acme T Seal is available with a Polypropylene cover which encapsulates the metal lock box. The plastic cover can be manufactured in a range of colours and can be laser marked with customer name/logo and consecutive numbering and for added security the same number is laser marked onto the strip.
The unique design of this cover does not affect the integrity of the T seal, it is merely an application allowing the option of colour-coding and bar-coding should this be a requirement.
A slot directly in line with the holes in the metal lock box still allow the user and security personnel to view the tips of the "T" mechanism within the lock box ensuring the seal has been correctly locked and has not been pre-tampered.
Like the T Seal this seal cannot be disengaged by intrusion or manipulation, nor can it be dismantled or cut without leaving obvious traces. It can be manufactured in operating lengths of between 10cm to 95cm and is suitable for use in temperatures of -60ºC to 200ºC (-76ºF to 392ºF).
Recommended applications
Trailers, Tankers, Containers, Rail freight, Refineries, Cash bags, Postbags, Lockers.
Material
T Seal - Matt Tinplated Steel
Encapsulated cover - Polypropylene
Available Operating Length
10cm – 95cm (18cm standard)
Marking Dimensions
Strip - 10mm x 85mm
Cover - 26mm x 64mm
Strap width
10mm
Average Breaking Strength
70kg
Acceptance
HM Revenue & Customs Sub-Group 3
EU Regulation 2454/93, Article 386, Annex 46A
US in-Bond Security

PDF
Download Acme Encapsulated T Seal datasheet (160kb)
Download Now
Do you know that you can customise our products by imprinting your company logo on to our seals?